First and foremost, our annual Howl-O-ween costume party is quickly approaching!
Due to the popularity of this event, we have decided to start the spooky festivities a day early and welcome pups to attend daycare on Sunday, October 30th OR Monday, October 31st!
Please keep in mind spots are limited, so if your pup wants to attend, please reserve a spot on the roster! This exciting day, full of Tricks & Treats will be much like a regular day of daycare, but all pups will be dressed up for a fun Howl-o-ween inspired photo shoot! If your pooch has a costume, please bring it along! We do have PLENTY of costumes for the pups who are still undecided on what superhero or villain they want to be this year, so don't worry about your kiddo not being prepared for the occasion. (:
*If your pup is a regular Monday kid or you have received confirmation that your pup has a reservation for 10/30 or 10/31, their spot is already reserved.
---
Spooktacular Sale will run from Monday, 10/24 – Sunday, 10/30!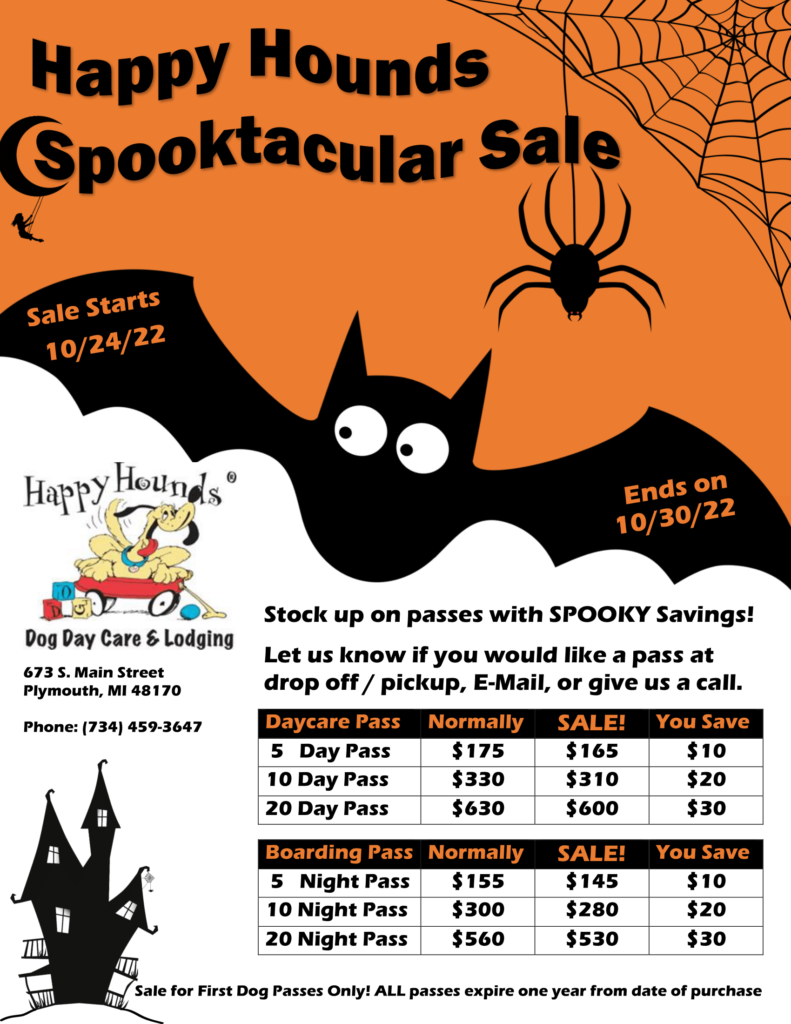 SALE Reminders:
Sale pricing applies to 1st Dog Daycare and Boarding Passes since additional passes are already discounted. 
Passes are only valid for one year from purchase date, so plan accordingly!
HH does not keep credit cards on file, so we will need CC information for transactions made over the phone and in person! 
If you are purchasing passes over the phone, we request that you call between 10a-5p due to the busy drop off/pick up times!
We accept Cash, Check and all major credit cards!